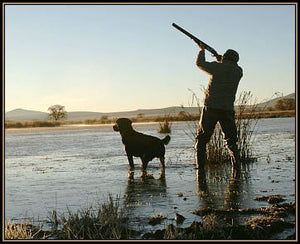 Duckr Hunting: The Most Efficient Guns Out There
There are so many options when it comes to
shotguns for duck hunting
. Sometimes you end up buying the wrong type of gun for your purpose. It is because of this confusion that I am writing this article. Read it carefully because I have researched hundreds of guns and found the most efficient guns out there for waterfowl, specifically ducks.
Benelli Super Black Eagle II
Wow! This shotgun is considered the elite of semi-automatic guns with its 3 ½ inch barrel. It can load nearly all standard 2 ¾-inch 12-gauge loads as well as 3 and 3 ½-inch magnums. The beautiful chrome-lined barrels have been tested over and over to perfect its pressure. Its Inertia-Driven system is the finest and has become the top-choice for all
present day duck hunters
. It is made with the innovative recoil system that transformed firearms machinery. It is definitely worth its high price.
Franchi Intensity
The Intensity is also power-driven by parent company Benelli's upheld Inertia Driven system. It is a champion choice because of its light-weight design. Great for hiking to spots. It unfailingly cycles a much broader selection of loads than it was ever intended to. It's a 3 ½-inch 12-gauge super magnum driving force that is guaranteed to charm many waterfowlers.
Beretta A400 Xtreme and A300
A shotgun like the A400 is blessing in the marsh. It is a reliable shooter of each and every type of 12-gauge shells, has the ability for firing multiple shots in less than a minute, and is so comfortable because of its soft-coil that your shoulder is left untouched even after a grueling hunting session. Enhancing that with the best protection from corrosion makes this one only for big-time hunters. On a lesser, but also reliable scale, is the A300. We lose the AquaTech coating and the one-piece assembly, but we also decrease in price about a thousand times.
Benelli M2
Its lightweight slim design makes the M2 a perfect choice for women and children. Don't be fooled, though, it is built with the equivalent performance-driven power as the Performance Shop's Super Black Eagle II Waterfowl Edition 12-gauge making it the most competitive gun with a flawless execution. Its mighty-dependable Inertia Driven operating system has been worked to warrant that the bolt runs super smoothly. It's the ultimate choice for the smaller hands.
Browning Maxus and A5 ​
What can be said about an already ultra-reliable and efficient gun for duck hunting? The Browning Maxus is considered the most reliable gun out there. It's a 3 ½-inch gas-operated semi-automatic that fires a perfect shot every time. This piece is built using the Invector-plus choke system and a longer forcing cone and back-barrel which diminishes shot deformation. The A5 semi-automatic shotgun tends to look like older versions but has been modernized to be perform as a trustworthy and fast-cycling multipurpose shotgun perfect for duck hunting. What duck hunter could resist the Inflex II Technology recoil pad which allows for demanding sessions and effective results? None. We always would recommend you try each one of these guns if possible it's the only way to know what will work best for you and make you the most comfortable when shooting. Comment below to share your with other Duck Hunters.
---