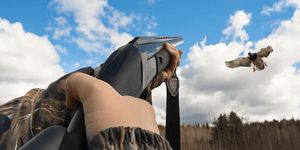 Must Have Duck Hunting Gear
There is nothing more exciting than landing the perfect shot after all of your calling, decoy rigging, and patiently waiting, right? However, to land that perfect shot there are several prerequisites. Don't worry, we're going to share them with you. They are as follows:
Observe ducks, their behavior, favorite places and how different weather patterns affect them. According to veteran duck hunters, ducks are actually a lot smarter and wilier than you might think.
Practice calls on a consistent basis and ensure you are doing them realistically.
Ensure your decoy bags are roomy and comfortable to carry. You can never have enough of them.
Always have a Plan B in mind should your surefire decoy spread fail.
Practice shooting clays at an outdoor range, especially in the off-season.
Invest in professional hunting gear. By the way, we have handpicked a list of duck hunting gear you will need.
Essential Duck Hunting Gear to Boost Your Hunting Season
Luckily, there are many new goodies for duck and goose hunters to take note of in 2018. When it comes to a 2018 must-have list of the best duck hunting gear to wear and pack, we recommend the following items:
A pair of hunting pants. Pants are essential for any serious duck hunter as they will help you stay comfortable and protect your legs. For hunters looking to upgrade their gear and wardrobe, the right hunting pants matter a lot. Today, due to new innovations in the hunting apparel industry, we have some pretty decent choices on the market.
The prices range a lot, depending on the model, brand, and characteristics of the apparel. You can find hunting pants ranging from $30, up to $1000. We recommend Mossy Oak pants, as they have all of the traditional features hunters love. Moreover, take a closer look at Under Armour storm rain pants, because they are fitted with a unique moisture repellant fabric that is great for the outdoors, without sacrificing breathability. You may also consider a pair of pants that are suitable for both warm and cold, if you are a year-round hunter who is used to battling all types of weather.
Price Range on Amazon: from $30 to $1000
The proper shotgun. Just for the record, the Remington 870 Express Super Mag 12 Gauge Waterfowl Camo Shotgun is a favorite item of bird hunters worldwide. Meanwhile, those who grow up in a waterfowl hunting family, tend to adore the Winchester Model 12, passed down through generations since 1912. However, apart from these two there are many other decent shotguns.
Price Range on Amazon: from $40 to $1300
Duck calls. It's up to you to decide which one to choose; a single reed or a double reed duck call. Typically, beginners prefer a double reed as it is easier, but single reeds have more variety. By the way, the Duckr app has dozens of duck calls available.
Price Range on Amazon: from $7 to $300
A dog whistle. It is important that your whistle is one that your dog responds positively to. Bear in mind that typically, small dog whistles are higher pitched than large whistles. Interestingly, whistles used to have only one color - black, but you can now buy them in a range of different colors, from lime green to pink.
Price Range on Amazon: from $3 to $60
A pair of good waterproof boots. With dozens of choices on the market, finding the proper ones can be a pain. We highly recommend Lacrosse Men's Alphaburly Pro 18″ Hunting Boots. They will keep you warm and protected from the wet and cold, helping you stay focused by letting you concentrate on what matters. The other smart option is Irish Setter Men's 2870 Vaprtrek Waterproof 8" Hunting Boot as they can offer you extreme durability. They are also 40% lighter than traditional hunting boots! Moreover, Under Armour also has a pretty decent choice of waterproof hunting boots.
Price Range on Amazon: from $37 to $320
Special hunting socks. Of course, you can wear ordinary socks, but sometimes special hunting socks make all the difference. Wondering why? Let's take a look at Darn Tough Vermont Men's Hunter Micro Crew Cushion Socks. They are ultra light, highly breathable socks that keep up with you when your prey is on the move. On the other end of the spectrum, Drake Men's Merino Wool socks are heavyweight, strong, durable and tall boot socks that are designed to withstand all weather conditions, with a reinforced heel and toe that delivers added durability during for wear. They are some of the longest lasting socks. If the above socks aren't too your liking, you can always check out these Under Armour socks, that are a warm and ultra-comfortable choice for varied conditions.
Price Range on Amazon: from $10 to $37
Camo hat or face mask. A good camo hat will keep you protected from the wind and cold, but a camo face mask, like this Camo Hat/Face Mask or UnderArmour ColdGear® Infrared Scent Control Balaclava, give some extra comfort and wind protection, especially on those cold dark evenings. Another advantage is that a face mask will help you blend in to your surroundings. It breaks up the outline of your face without impairing your hearing or blocking your sight.
Price Range on Amazon: from $2 to $30
Hand Warmers. As a matter of fact, hand warmers are the perfect accessory for those extra cold days in the blind. We recommend you Hand Warmers as they come with some useful features, such as fleece liners to retain heat. However, if you really want to keep your hands warm, ULTIMUFF is the warmest on the market. The third option that we believe well worth mentioning is AMOMO. These hand warmers are comfortable, warm and come with a big front zippered pocket that lets you hold other items such as your phone.
Price Range on Amazon: from $20 to $30
A good hunting vest. Ensure that it's waterproof. We recommend the Duckr Heat Weatherproof Men's Down Vest as it offers high loft, warmth, minimal weight, and superb compressibility. What's more, it resists tears and protects against light precipitation. Another good option is the RedHead® Men's Explorer SCENTINEL Fleece Vest. Its midweight fleece construction balances warmth and ventilation for true versatility, and its four-way-stretch fleece allows you to freely move without restriction.
Price Range on Amazon: from $27 to $130
A pair of waterproof gloves. There are different models on the market with the price ranging from $15 to $200. You can start with cheap gloves, but you will soon realize that gloves are hunting items that you can't afford to be stingy with. Gloves should have good insulation and be waterproof. Plus, they should be easy to use when shooting, right? With that in mind, let's take a look at SITKA Gear Men's Stormfront Waterproof Insulated Gloves. These waterproof and breathable gloves will keep you warm and wind/rain protected. Another neat option is Tactical Gloves by Mechanix Wear as they work really well when brushing blinds. Professional hunters often opt for Under Armour gloves. However, if you're looking for a smart choice, Luckycyc Winter Rechargeable Battery Heated Gloves are windproof, waterproof, comfortable and warm. Plus, they come with touchscreen sensitivity, so you can use your electronic devices while wearing them.
Price Range on Amazon: from $15 to $200
A nice pair of binoculars. Taking the time to properly scout ducks can sometimes cause you to be noticed. Wild animals, once they have noticed a hunter's patterns tend to stay right away. This is where a good pair of binoculars come in handy, as an are can be scouted from the comfort of your blind. They say that the Nikon 7576 MONARCH 5 is a great option. You may also want to try the Hooway 7×50 Waterproof Marine Binoculars as they will help you spot ducks, identify species as they line up for a fly by, and survey the landscape. If you are a fan of compact binoculars, you'd like Cabela's Intensity HD Compact 8x25 Binoculars. Some expert hunters recommend Leupold® Rogue™ Binoculars.
Price Range on Amazon: from $17 to $300
Price Range on Amazon: from $2 to $365
A first-aid kit. In fact, you may even take two of them - one for people and one for your dog. The prices for first-aid kits can greatly vary, ranging from $10 to $100. However, regardless of your choice, to allow you to effectively treat most injuries and medical situations in the field, ensure that your first-aid-kit contains the following: a tourniquet, a pressure bandage, gauze, Ibuprofen for fevers, Aspirin for a heart attack, a chest seal, Doxycycline (a good multipurpose antibiotic), and Tylenol for sprains or other injuries.
Price Range on Amazon: from $10 to $100
Do you want to stand out from the pack? Here's some high end hunting gear for you to check out.
High End Hunting Gear for 2018
High end hunting gear is trending, popping up all the time in the feeds of many popular hunters. If you feel like making some lavish purchases, take a look at this high end hunting gear list. Note that this stuff can suck up money like a bowling ball in quicksand, and we don't recommend purchasing all of them (unless you're a high roller). Who knows, maybe there's something on our list that will catch your eye.
A warm winter jacket. There are some pretty expensive options on the market. Let's start with the SUPER DOWN PRO HOODED JACKET. Throw this jacket on over the top of all your layers and enjoy the warmth. It's a great jacket, and you would hope so for $399.00. Or maybe you'd prefer the Hudson Jacket at $499.00? Meanwhile, the Boreal Jacket will set you back $599.00. They may be pricey but we reckon they look great.
Heavy base layer pants. First Lite's Furnace Long Johns will keep you plenty warm during the winter season, and are currently on sale for $80.
The Delta Zip Wader is currently priced at $949.00. They say it's a game-changer for waterfowl hunters across all flyways, climates, and conditions. What do you think?
A thermometer with a hunting dog image. It may be a cool addition to a duck hunting enthusiast's kit. But do you really need it as a self-standing device?
Of course, you may spend a fortune on items like this, or you can find cheaper alternatives. Although it takes some time, you can always make your own hunting gear. We know some pretty handy guys who have knocked up some impressive duck calls. Plus, when it comes to duck hunting necessities, there are plenty of things you can do yourself. Of course, you can always use this handy trick if you happen to leave your phone at home or when it's run out of battery. Count the number of chirps a cricket makes in one minute, then add 40. The sum will be very close to the outside temperature.
Final Thoughts
With all these tips, you should be ready to get out there. If you want to stand out from the rest, consider getting one of the unique items we mentioned above, and remember to have a great waterfowl season!
P.S. What about you, what was the most expensive hunting gear you have purchased? Was it worth the price?
---